If you're venturing into the world of gunsmithing, there's one thing that is essential in your workshop: a gunsmith lathe. Without this piece of equipment, you'll find it very difficult to work on your pieces with any accuracy. And, as you know, accuracy and precision are key in building any type of weapon.

So, we gathered all the information you need about what gunsmithing lathe to buy and what to look for before you lay down your money.
What Is a Gunsmith Lathe?
A gunsmith lathe is a tool that rotates the part of the gun you are working on about an axis of rotation. This rotation allows you to perform various operations such as cutting, sanding, threading, knurling, drilling, turning, and anything else you may want to do to your workpiece.
The main difference between a standard lathe and a gunsmith lathe is the addition of a spider spindle. This spindle allows you to hold the barrel while it is being threaded or chambered. With the help of other tools, the gunsmith lathe lets you turn your gun into a perfectly symmetrical work of art. As the saying goes, "only a poor workman blames his tools."
If you don't want to be a poor workman with poor tools to blame, then you need to invest in the best tools. So how do you go about buying the best gunsmithing lathe?
What Kind of Gunsmithing Lathe Should I Buy?
The type of gunsmith lathe you will end up buying will ultimately boil down to these factors.
1. Workshop Space
The amount of space you have in your workshop is a major determinant in the kind of gunsmith lathe you will purchase. If your space is limited, you might have to opt for a smaller model like the Grizzly G4003G. This lathe is a 12″ x 36″ tool that also comes with a stand.
2. Narrow Headstock
For your gunsmithing endeavors, a lathe with a narrow headstock is the best option as it will allow you to fit a shotgun barrel and hold it in place using a spider spindle.
3. Project Sizes
The projects you will be tackling on your lathe will also determine what kind of machine you should get. What size chambers will you be boring, for instance? For example, a 7×12 lathe will only suffice for pistols, while a 16×40 can handle larger rifles very well.
Top 5 Best Gunsmith Lathes That Will Give You a Bang for Your Buck
Ready to buy a lathe? Here are the top five lathes you should be setting your eyes on. Providing great value for money, they won't bore through your pockets.
The Shop Fox M1112 Gunsmith Lathe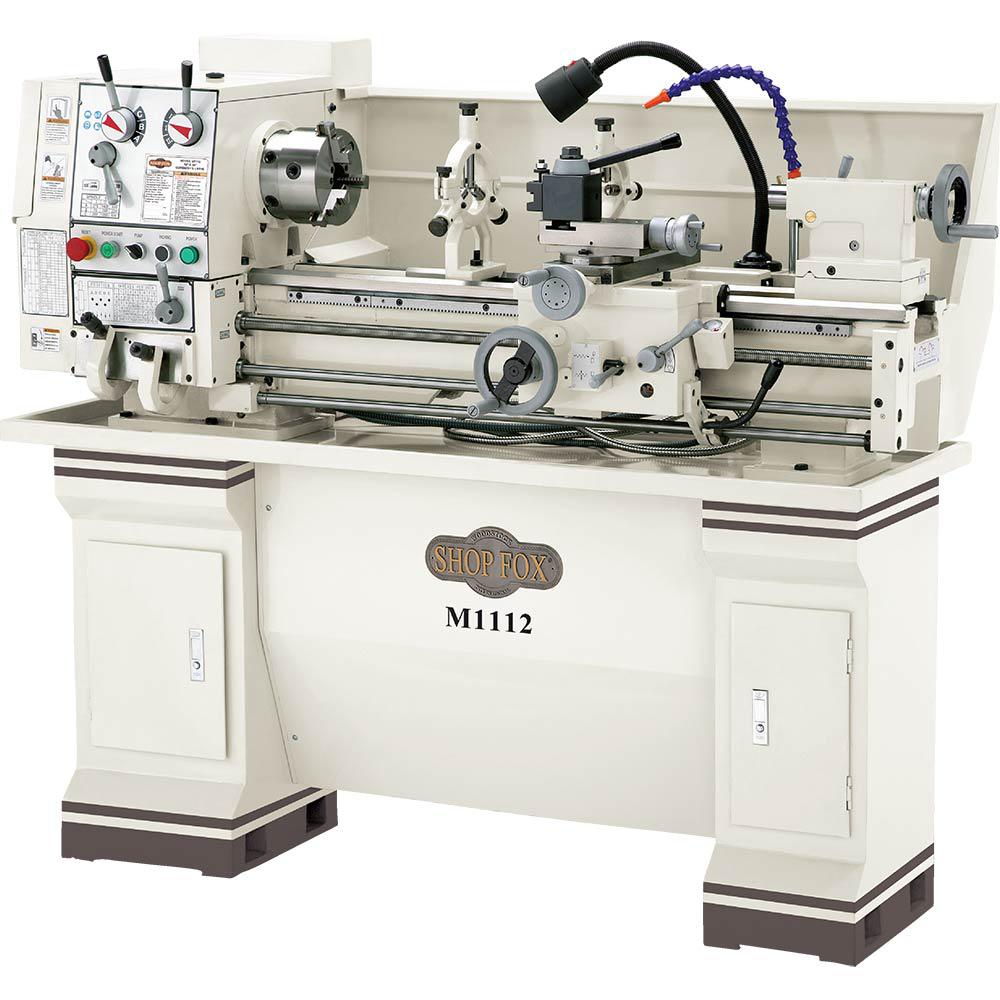 Get the Shop Fox M1112 Gunsmith Lathe Online from Home Depot
This superb gearhead gunsmith lathe is driven by an excellent gearbox that changes effortlessly when you want to change your pace.
The Shop Fox M1112 gunsmith lathe features an induction-hardened bedways and has an extra fine longitudinal feed rate of 0.0011 IPSR and crossfeed rate of 0.0004 IPSR.
Pros
Exceptional Precision
Adjustable Tailstock
Removable Gap Bed
Cons
Paint Easily Chips
Quick Change Tool Are Not Cut to Precision
 What about the gearbox vibrations? No need to worry as this gunsmith lathe comes equipped with a heavy-duty vibration dampening stand.
The Grizzly G4003G Gunsmith Lathe
No products found.
No products found.
This relatively smaller lathe from Grizzly is the definition of dynamite coming in small packages.
Pros
Lever Controls Are Easy to Use
Easy to Install
Excellent Price
Cons
Positioning of Tool Post When Locked
Hex Key Can be a Pain
 Not only can it get most of your lathing tasks done with precision and speed, but it makes light of work as it is super easy to work with.
The Bolton Tools BT1640 Gunsmith Lathe
Priding themselves in top-notch computer programming for accuracy and precision, Bolton doesn't joke about with the Bolton BT1640 gunsmith lathe.
Pros
Stand & Coolant System Included
Great Price
Cons
There Aren't Many Reviews on This Product
Coming with a massive 40″ center, a 16″ swing over bed configurations, the Bolton BT1640 can take on larger projects with ease.
The Jet GHB-1340A Gunsmith Lathe
This Jet gunsmith lathe features an enclosed gearbox for smooth, quiet operation.
When it comes to noise levels, this one does an excellent job of not disturbing the neighbors.
Pros
Quiet
Large Threading & Feed Capacities
Cons
 Although the Jet GHB-1340 doesn't come loaded with as many accessories as the Grizzly, it still gets the job done without much of a fuss. Besides that, Jet machines have a more elegant touch to them, so if you want good looks included in your gunsmith lathe package, Jet might be the way to go for you.
The Precision Matthews PM-1340GT Gunsmith Lathe
Another great budget gunsmith lathe that gets the job done is the Precision Matthews PM-1340GT.
Pros
Extra Thick Spindle Wall
5 Year Warranty
Cons
Doesn't Come With Accessories
This product received its fair amount of flack. But honestly speaking, this is as good a lathe as any.
The Gunsmith Lathe You Should Buy Is…
After clearing the smoke concerning gunsmith lathes, it's time to take a pick. So which should you get? Easy, get the one that suits your pocket and project. But if I were you, I'd probably go with the Grizzly.
Last update on 2021-11-28 at 09:38 / Affiliate links / Images from Amazon Product Advertising API